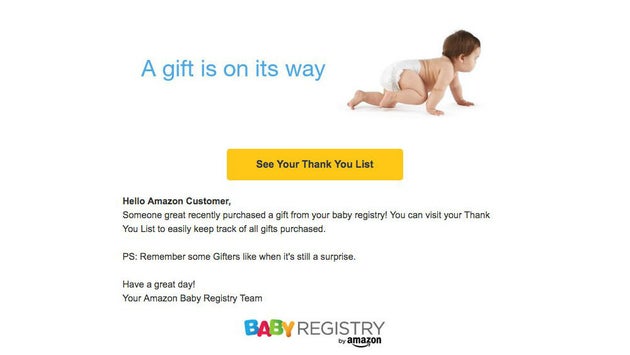 Many Amazon customers were left befuddled and vexed on Tuesday when they received an email telling them that they'd been gifted something from — what was for a lot people — a nonexistent baby registry for their nonexistent baby.
"Hello Amazon Customer," the email says. "Someone great recently purchased a gift from your baby registry! You can visit your Thank You List to easily keep track of all gifts purchased."
It's unclear how many people received the email, which Amazon later said was sent out by accident, but a glance at social media suggests that many people — both those with Amazon baby registries and many more without — were impacted by the mistake.
A Washington Post reporter was told by an Amazon customer service representative that the email had been "sent in error to a large majority of Amazon customers." It should be "safely ignored," the rep added.
Customers expressed confusion and displeasure on Twitter:
Cass Anderson

✔@casspa

Guess I'm not the only person (who isn't having a baby) who just got an email from Amazon about my (non-existent) baby registry

1:56 AM – Sep 20, 2017

22 Replies

1111 Retweets

2323 likes
Twitter Ads info and privacy
Karen Tumulty

✔@ktumulty

Amazon just informed me that someone has purchased a gift from my baby registry. My baby is 21, and hopes it's a keg.

2:28 AM – Sep 20, 2017